Shielding Fabric Comparison
A comparison of different kinds of conductive fabrics. Included copper/nickel ripstop fabric and elastic silver fabric. You can see, Nasafes offers the best price in relation to the amount of conductive fabric.
Comparison result
As you can see in the comparison above, the conductive fabric by Nasafes offers the best deal.
You get 1538.5 sq inches for a reasonable price.
The second deal is the elastic silver fabric by Argenmesh.
You get 708 sq inches for a good price.
3th Deal is for people who need less conductive fabric.
You get 510 sq inches for a higher price.
What Are Conductive Fabrics?
Also known as conductive textiles, conductive fabrics are capable of conducting electricity. A conductive fabric consists of two parts. The first is a "base" or substrate material that is non-conductive. The second part of this fabric is a conductive material that is either woven or sprayed onto the substrate one. Substrate materials can be some sort of cloth fiber, such as cotton, nylon, or a polyester blend.
Stainless steel can also serve as a substrate. There are a number of candidates for the corresponding conducting material. Both precious (gold, silver) and non-precious (nickel, copper, titanium) metals can be used, as can carbon. In addition to conductive fabrics manufactured in this way, there is an emerging market for semi-conducting textiles. To make this product, metal or carbon powder is sprayed directly onto a variety of fabrics.
This textile type's closest ancestor is the 19th century's Faraday Cage, actually an armor-like experimental mesh that was used by 19th century scientist Michael Faraday in electrical conductivity experiments. And Benjamin Franklin conducted even earlier experiments of this type by exposing two kinds of material (cork and silk thread) to electrical current.
Different Types Of Conductive Fabric
The concept of winding strips of precious metals around cloth fibers and then weaving these materials into clothing has existed for thousands of years. "Cloth of gold" was still being worn on special occasions by European royalty as late as the 1500s.
But there was a problem with clothing made from these types of metallic fabrics. The clothing literally tarnished, spoiling its look. Metallic clothing made today uses smaller pieces of metal. These metallic filaments are coated with films or adhesives that protect against tarnishing when exposed to environmental pollutants or ocean spray.
The metallic fabric known as elastic silver fabric is a popular design choice due to its shimmering, metallic look than still allows the user to bend the fabric with relative ease. The material is made by combining elastic and nylon fibers with silver filaments.
There is also a "medical grade" type of elastic silver fabric that is used in the making of bandages and special head coverings. Highly conductive, this type uses "purer" silver than the elastic silver fabric used in conventional clothing, and works well when electrode use or shielding is called for. The metallic content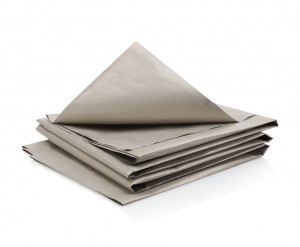 of both types of elastic silver fabric breaks down with frequent washings.
Nickel and copper-coated nylon ripstop fabric is a highly conductive material type that can be also used for shielding purposes. This type of material can sometimes cause adverse skin reactions, so it should never be fashioned into clothing. Its primary use is as shielding against electromagnetic rays, and it is often incorporated into medical, law enforcement, and military equipment.
Uses Of Conductive Fabric
The fabric is used in "electronic clothing", military aircraft and other vehicles, space suits and other interstellar equipment, medical equipment and supplies, as a heating element in some appliances, and in some art installations.