Grounding rod for electric fence
If you have small pastures and are looking for a grounding rod set that can be moved quickly, the nasafes electric fence ground rod is just the thing for you. The copper rod is 24″ long and thus long enough to reach moist soil and thus ensure optimal grounding.
Due to the relatively short length, the electric fence grounding rod kit can be pulled out again quickly. Particularly helpful when using mobile pasture fences. The connection to the electric fence charger can easily be made with the alligator clip. Annoying cable work or soldering is no longer necessary by simply plugging and clipping.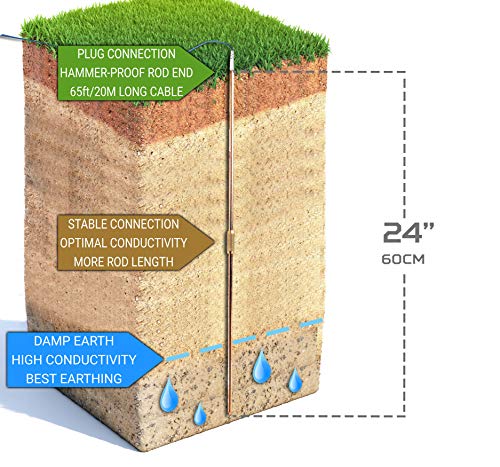 Generator grounding rod kit
In addition to grounding electric fence chargers, the grounding kit for generator can also be used to ground electrical generators. Its handy size makes it ideal for mobile generators that require grounding. The 24″ copper coated rod is so practical that it can be easily unscrewed and placed in any car's glove compartment.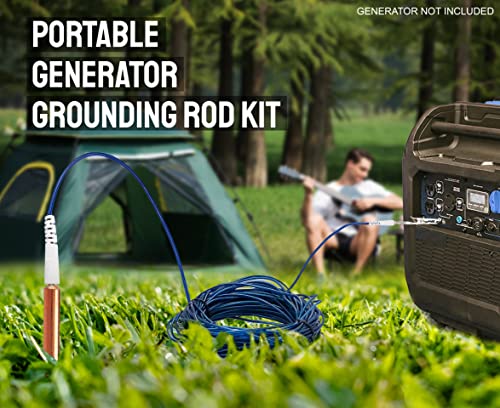 Grounding rod earthing versatile
For grounding, the copper grounding rod can be used in a variety of ways and offers fast grounding from the ground. Many people use grounding sheets and mostly use grounding cords from the wall outlet. While this grounding is functional, it can carry greek current if the cable connections are poor.
This is where the grounding rod comes into its own, because it always offers natural grounding and thus the 65ft grounding cable can be pulled directly into the house and connected to any grounding sheet with the supplied alligator clip.
Also conceivable is the grounding of antennas with the antenna grounding kit or audio grounding. Using it is extremely easy. Make a small hole beforehand. Then fill the hole with water and let the water drain away. Only then do you knock the grounding rod into the ground with a hammer. Proceed in the same way when pulling out. Before pulling out, fill some water around the copper rod to loosen the soil. Then the grounding rod can be pulled out undamaged.