The right electrical outlet adapter for Nasafes grounding cords
On the world map you can see in which country the specific connector types are used. Take a look at the pictures and compare the pictures with your sockets at home.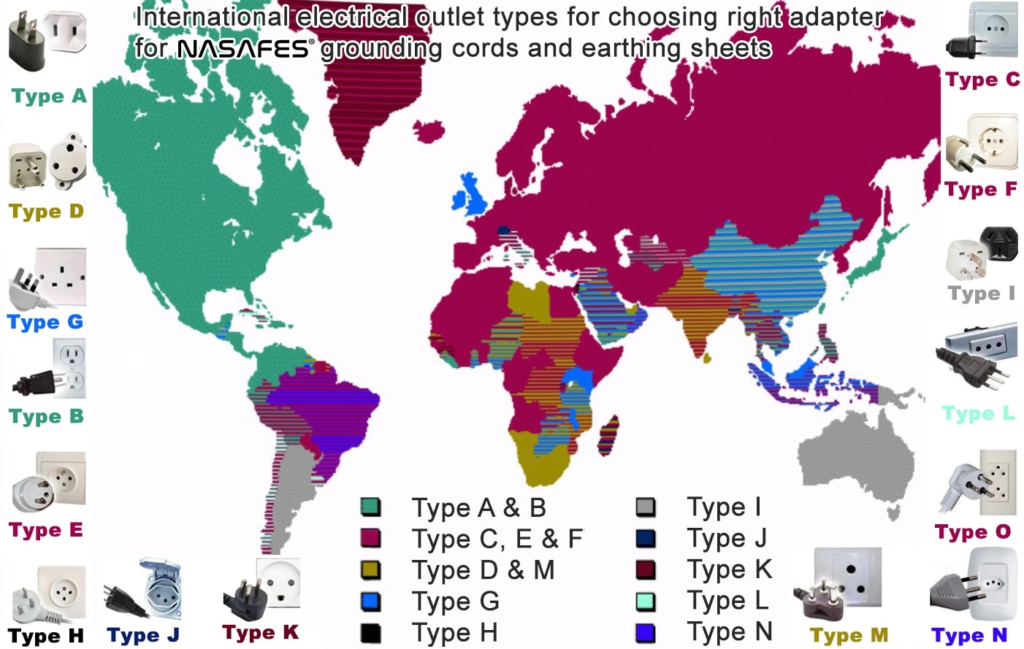 Since NASAFES does not offer adapters for all socket types, we have compiled a list of suitable adapters. These adapters are suitable for use with our earthing cables and earthing sheets.
Type A – Not suitable
Type B – Perfect! You don't need an adapter. Use our grounding cords directly with this electrical outlet.
Type C – Not suitable
Type D – Adapter for india, neapel, bangladesh or south africa
Type E + F – Adapter for Germany, Russia, France, Spain, Italy and most european countries.
Type G – Adapter for UK, Hong Kong and more.
Type H – Adapter for Israel, Palestine and more.
Type I – Adapter for Australia, China, Argentina, New Zealand and more
Type J – Adapter for Switzerland and more. 
Type K – Adapter for Denmark and more.
Type L – Adapter for Italy, Uruguay, Chile and more.
Type N – Adapter for Brazil and more.
Order the adapter conveniently together with our grounding cords and earthing sheets in the USA and use the Worldwide Shipping Service to have the products delivered to your doorstep.