Buyer's Guide to Choosing the Right Grounding Sheets
Are you suffering from insomnia? Want to improve the overall state of your health? We have the perfect solution for you in the form of grounding sheets. These sheets connect you to the Earth's natural electrical charge, which has multiple health benefits. According to recent studies, grounding sheets promote better sleep and reduce inflammation among other health benefits.
However, with so many options available in the market, choosing the right grounding sheet can be confusing if you don't know what you are looking for. So, we are here with a comprehensive buyer's guide.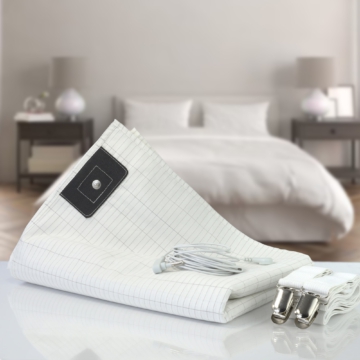 How to Buy Grounding Sheets
Let's walk you through all the factors you should consider when buying grounding sheets for your health needs.
Size
Grounding sheets come in various sizes to fit different mattress types, like full, half, king-size, and likewise. So, first, measure the dimensions of your mattress before purchasing to ensure proper fit. You will also get some grounding sheets that feature elastic bands and corner pockets. It keeps them secured in place. At Nasafes, we have two sizes:
– King size sheet (106″x102″)
– Half sheet (94″ x 35″)
Material
The material of the grounding sheet plays an important role in terms of the comfort and effectiveness of the earthing mechanism. You should look for sheets made from high-quality conductive materials like silver, copper, or stainless steel. These materials help with effective grounding while being gentle on your skin. Make sure that the sheet is soft and comfortable enough for regular use. The grounding sheets by Nasafes are made from silver fibers and breathable material that's super soft on the skin.
Maintenance
It's essential to get a grounding sheet that is easy to use, especially if you intend to use it regularly. It should be easy to maintain and clean the grounding sheet. The sheets you buy should be machine washable and come with clear care instructions. Keeping your sheet clean and free from contaminants increases its longevity and effectiveness. Nasafes sheets are machine washable at 140 degrees Fahrenheit or 60 degrees Celsius. After washing you can simply air dry it. They are even safe to iron.
User Reviews
It's essential to read user reviews and seek recommendations from friends or online communities. These come in handy when choosing the right grounding sheet. Real-world experiences can provide insights into the product's performance and comfort.
Concluding Note
You should carefully evaluate these factors when choosing a grounding sheet that suits your specific needs and provides potential health benefits. You can check our superior-quality grounding sheets, which check come with all the essential features for earthing efficacy.