The Benefits of Running Barefoot
There is little taboo surrounding running. Many people implore differing tactics to their training and this will differ across the many different types of running events you are training for. Defining the purpose of your running is as simple as reaching an end goal or having a final destination in mind. Along the way, we hear of many different tactics to help improve your running, physical fitness levels, and other such associates. One of these highly debated subjects is running without shoes or barefoot. Below is a brief look into how running without shoes can create benefits for the user.
Surface Pressures and Oxygen Consumption
One of the main selling points of running barefoot is the excess oxygen available to the runner. When we run on surfaces while wearing shoes, we consume anywhere from 2-5% more oxygen. This is an important telling point as runners have to emit the proper breathing techniques to pair with their running habits. Having a greater amount of free oxygen to use allows runners to better develop their stride-to-breathing ratio and can create additional methods for them to figure this out against their body type.
The surface pressure is also greatly produced when we push-off or land without shoes. The contact time between foot and surface is greatly tamed when running without shoes. This speaks to the longevity of the activity. Utilizing less pressure on your push-off and landing can help you succeed in running greater distances or for a longer span of time.
Natural Development through grounding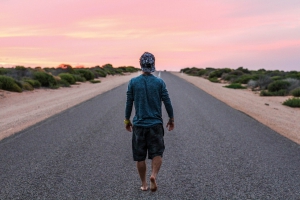 When our foot contacts a surface, there are many components of the body being pressured or utilized. The ligaments in the foot, our natural arches, and other such tendons are the main correspondents to producing our running capabilities. When these elements encounter a naturally formed surface in direct contact with the barefoot, they can respond more quickly to pressures. This allows for a quicker build in terms of muscle responsiveness, allowing you to strengthen these areas naturally and quickly. When we run with shoes, some of these pressures are forwarded to the make-up of materials and shoe components, hindering our ability to naturally develop these muscle groups. When running barefoot, we are able to access our natural functions from these areas, helping to improve our gait over time. This helps us create those natural running patterns and habits we desire to keep us moving for many years down the road.
Even if you do not run barefoot, you can ground yourself optimally with a grounding cord. Our grounding cord wrist strap set is suitable for this. Simply attach the Wrist Strap to your wrist or ankle and ground your body while working.
Learn more about the grounding cord and how it can improve your health and wellbeing.