The conductive fabric is highly conductive and is therefore very well suited for shielding signals. Due to the lattice structure of the conductive threads, the conductive fabric comes very close to Faraday's principle. It is best to use the conductive fabric over a large area. The fabric should be overlapped to create a large conductive shield. Since this condcutive fabric by the roll is very long, wrinkle-free areas can be optimally shielded.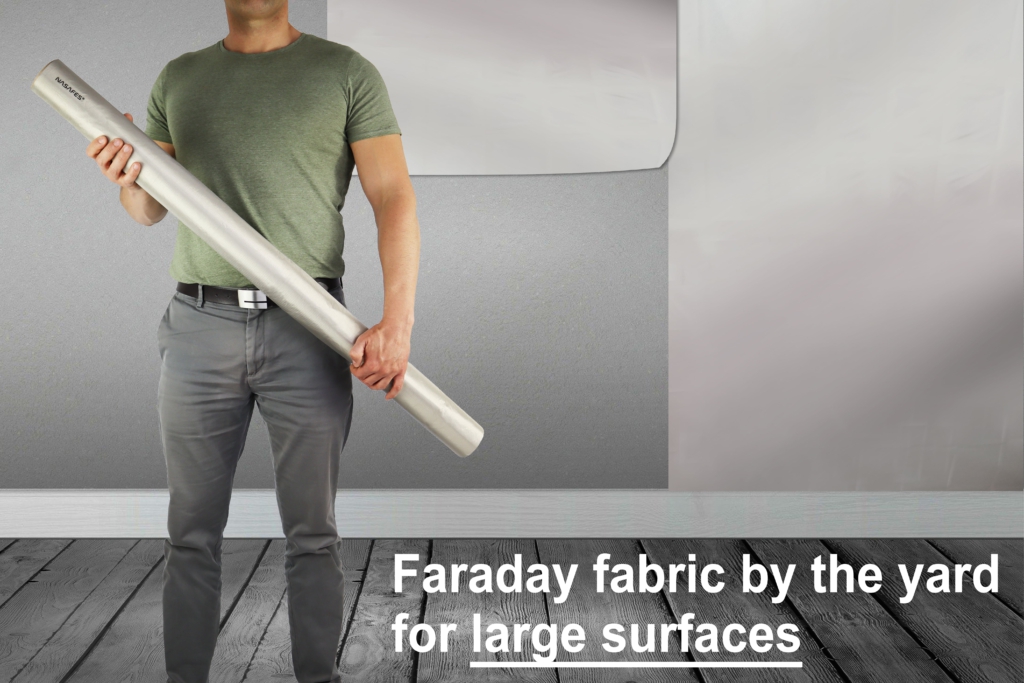 With one roll you can shield several walls and protect against incoming electromagnetic radiation. Possible radiation sources can be wifi routers or smart meters. The conductive fabric by the roll can therefore be used optimally as an anti-radiation fabric for large wall areas.
Conductive fabric by the roll for sensitive devices
The conductive fabric can also protect sensitive devices from interference signals in laboratories, recording studios or similar facilities. The emf fabric has a slightly golden glow and the grids from the conductive threads are clearly visible. The emf protection fabric is easy to cut. You can cut several small pieces to shield cables or circuit boards, for example.
The conductive fabric by the roll feels thin but is tear-resistant. The special composition provides a combination of shielding and lightness. Due to its low weight, the Nasafes conductive fabric by the roll is used in aircraft cabins and other space equipment. Temperature resistance is up to minus 455 Fahrenheit.
With the conductive fabric from Nasafes you have a high-tech fabric that will certainly meet your requirements.
Conductive fabric by the roll to shield signals from smartphone
The shielding properties are outstanding. The radiation from a smartphone can be blocked so strongly with the conductive fabric that the radiation values suddenly change from red to green. In our test, an Acousticom 2 EMF Detector was used. It can be clearly seen that after wrapping the smartphone, the radiation levels went down significantly.
This radiation protection test demonstrates the exceptional performance of the Nasafes fabric and explains why Nasafes is the number one choice in aerospace.