Elevate Your Shielding with RF Faraday Fabric
Unveil the power of RF Faraday Fabric, a military-grade shielding solution trusted by special forces. Measuring 45″ x 43″ and complemented by a 45″ conductive tape, this fabric offers versatile applications for robust EMF protection.
Multi-Functional Defense Against Signals
Primarily designed for quick Faraday bag production in the field, RF Faraday Fabric proves invaluable against hacker signal attacks, shielding GPS tracking, and creating radiation blockers for devices like cell phones, smart meters, and WiFi devices. Explore its diverse applications, from anti-EMF gloves to canopies, sheets, clothing, and blankets, making it a comprehensive solution for RF protection.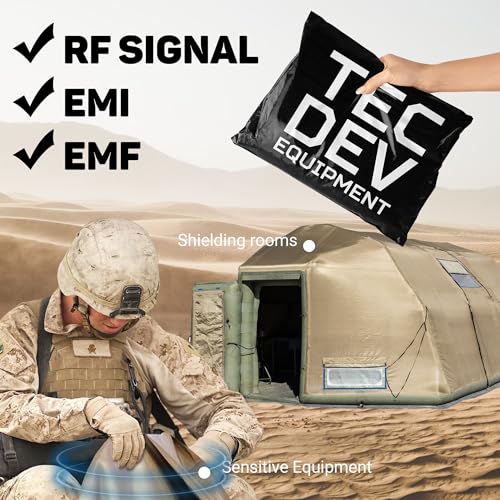 RF Faraday Fabric stands out as a pinnacle of military-grade shielding technology, earning the trust of special forces for its unparalleled effectiveness against diverse electromagnetic threats. Crafted with precision and commitment to defense, this fabric provides a robust shield against high-altitude electromagnetic pulse (HEMP) attacks, ensuring comprehensive protection in the face of advanced electromagnetic interferences.
Comprehensive RF Shielding
Crafted to shield against a spectrum of electromagnetic threats, RF Faraday Fabric defends against Wifi, Bluetooth, RF Radio Frequency, EMI Electromagnetic Interference, EMP Electromagnetic Pulses, and GPS signals. Whether used as mesh, curtains, a Faraday cage, smart meter guard, or WiFi protection, this fabric ensures reliable protection against radiation and EMF.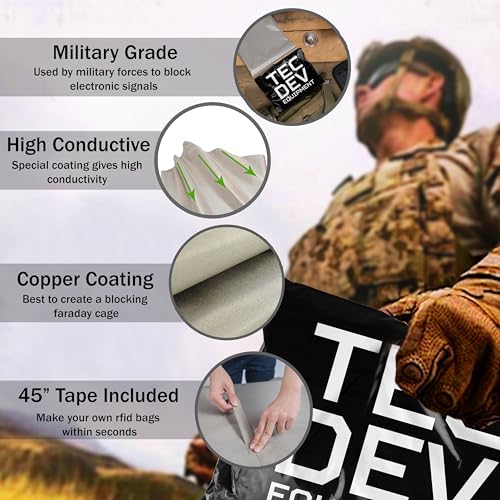 RFID Fabric for Added Security
Measuring 45″ x 43″, this fabric doubles as RFID fabric, offering an added layer of security. The package includes a 45″ long and 1″ wide shielding tape, serving as emi tape, emi shielding tape, emf sticker, anti-radiation sticker, conductive fabric tape, emf protection sticker, or emf shield sticker. The conductive adhesive, paired with the Faraday Fabric, allows for the quick creation of a blocking sleeve.
Packaged for Convenience
RF Faraday Fabric is now conveniently packaged in a sleek black bag, maintaining its compact and powerful nature. Ideal for those seeking a practical and portable RF protection solution, this fabric ensures reliable defense against electromagnetic threats, making it an essential addition to your protective arsenal.
Shielding Effectiveness
In the following picture you can see the shielding effect of the Tec Dev Fabric under attack from different MHz and GHz frequencies.